Prologue
I love world maps. Since my earliest childhood I have been fascinated by all the foreign-sounding names on them. Back in that time it was unthinkable that I would ever see any of these places.
Now, many years later, I am now lucky enough to have the opportunity to travel to many different countries and I sadly realized that this planet is not nearly as big as I hoped when I was a kid.
However, the fascination for maps has stayed. I still love to follow with my finger the routes I have traveled (or I want to travel to) and for many years my kitchen map has been a daily reminder of how fascinating this world is.
The Plan
I was looking for a big, beautiful world map and made an interesting discovery:
You can get great world maps up to around 1,50m (~59 inches) width. However, this size seems to be a tipping point. From here on the bigger the maps get, the less detailed they are. And it makes sense. Such big maps are normally used in classrooms and even the people in the last row should see the large printed city names.
But that's not what I wanted. Not at all. I envisioned a gigantic poster that would show the smallest villages, the most detailed coast lines and the highest level of information density possible.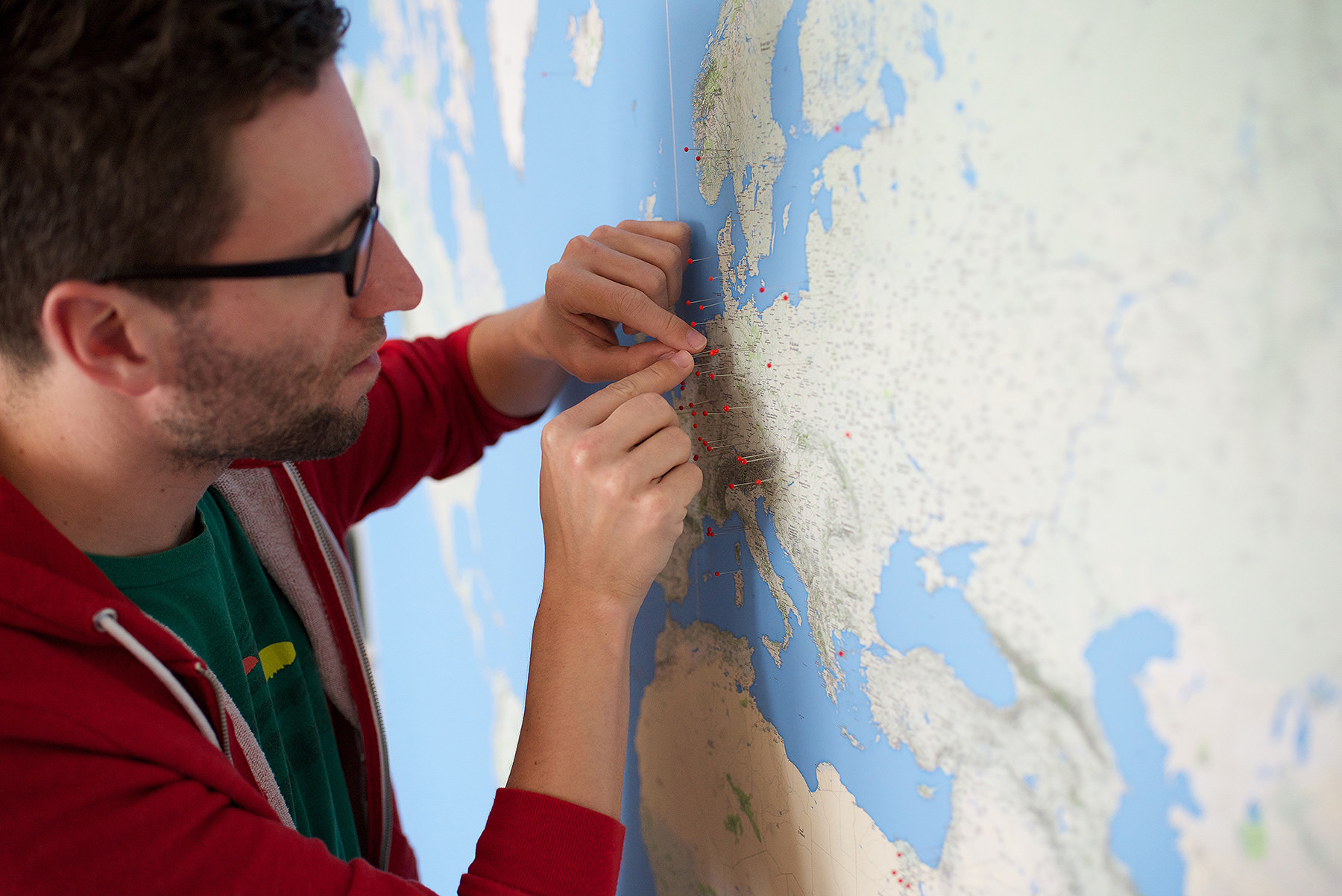 The Research
The online research was done quite quickly: even very specialized online shops1 didn't have what I was looking for.
Either the size I was looking for was just not available;
or the detail level was not great (only showing cities with several 100k inhabitants2);
I didn't like the design (like: it over-emphasized borders of countries3);
or the detail level and the format were great, but instead of the world the map only showed one continent.
My offline research was also not very successful. I visited many specialized map stores in three different countries and several people confirmed what I already guessed: There is just no market for detailed world maps of this size.
So no other option was left but to do it myself.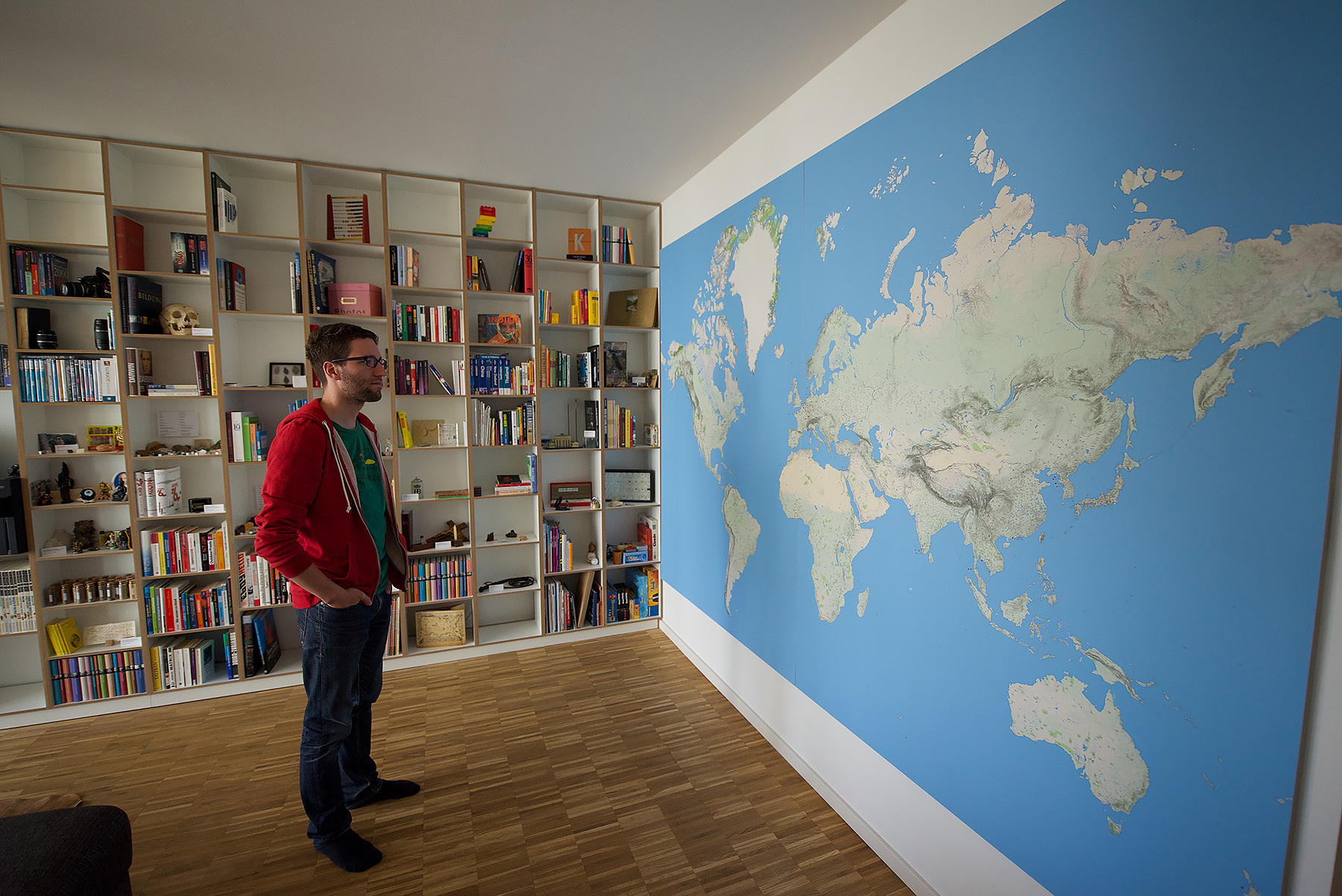 Data Source
My goal was to cover one of the walls in my apartment with a self-printed map. The available space was 3×2 meters (~118,11×28,74 inches) so I needed data with a resolution of at least 300 dpi for this size. Whew.
OpenStreetMap
Creative Commons and crowd sourcing projects are always a good choice when in need of data. However, design is normally not the core strength of open source( – ish) projects. The data quality is terrific, but the additional work to custom style the maps would be extraordinary.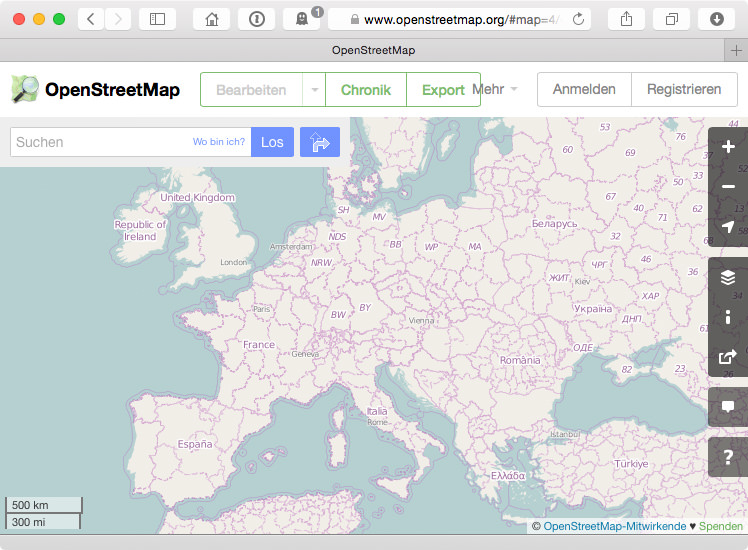 Bing Maps
Not really beautiful but the data quality seems to be fine. However even on screens the image quality is bad: JPG artifacts around the fonts – just, why?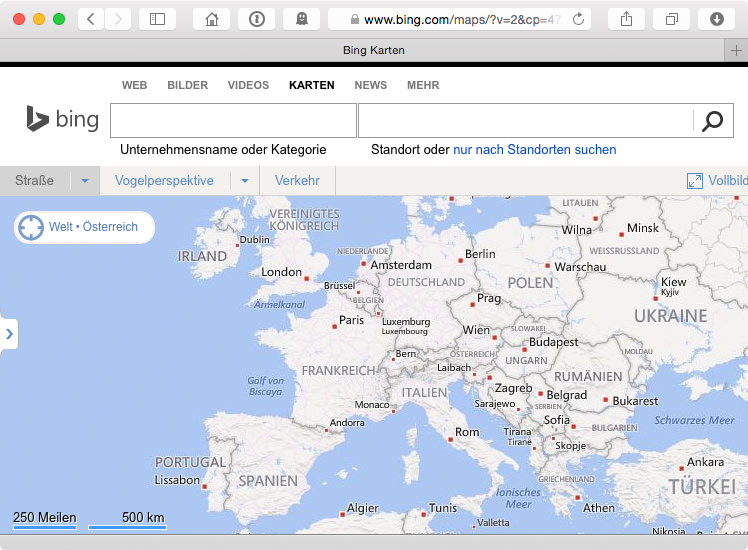 Mapquest
MapQuest provides a layer for OpenStreetMap. First the color setting seems to be way nicer than at Bing or default OpenStreetMap layout. But the closer you look, the more you realize the missing contrast. At some zoom levels, it's almost impossible to see the outlines of smaller islands like Corsica.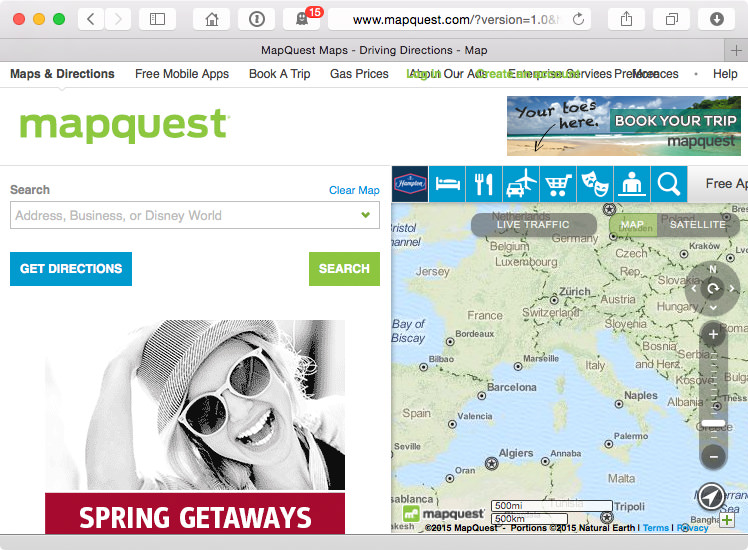 Google Maps
There's a reason why Google Maps is gold standard for online consumer maps. Even when the data quality is great the real challenge for a map service is to decide what they should and should not display. Google does an excellent job in always showing the right amount of information.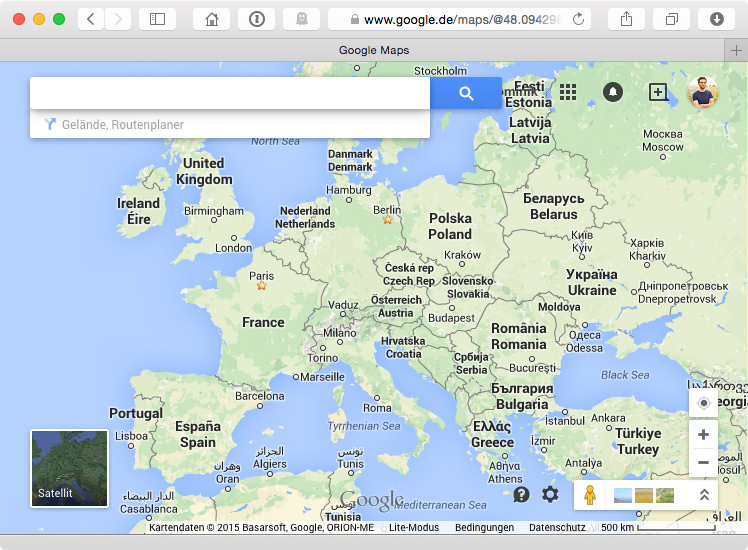 The Data
May I print legally Google Maps? Definitely4. May I legally print Google Maps in 3×2 meters size? I guess so. While I'm not a lawyer I came to this conclusion based on the following facts:
It's a personal, non-commercial one-time project for my own educational purposes.
The project is not publicly accessible and I'm not releasing any reproduction of it (including large-scale detailed photos).
I collected the data as a normal web user, using the "print" feature (and stitching the files together).
The Printing Process
It's easy to print something large. It's easy to print something very detailed. The combination though is difficult, especially if you ask the printing shop for only one copy.
An offset printing press would give you the best result, however, you can't get a run smaller than several hundred copies. Out of ten print shops I asked for advice, only five got back to me; four immediately told me it's not possible.
I found the solution by chance: Walking back from errands I passed by a small print shop just around the corner from home. The two extremely knowledgeable owners5 got pretty excited about my project and did an amazing job in helping me with it.
The data file was almost in a square format. To fit it into the desired 3×2 format we cut the Arctic (»I have seen water, it's water, that's all.«) and Antarctica. This far south the so-called Mercator Projection6 doesn't add any valuable information anyway.
It wasn't possible to print on a single 3×2 meter sheet, so we cut the map into two pieces. This division was actually not perfectly centered, on purpose: The cut was made along a vertical line with as much ocean as possible. This way, it was easier to put two parts together without a noticeable seam.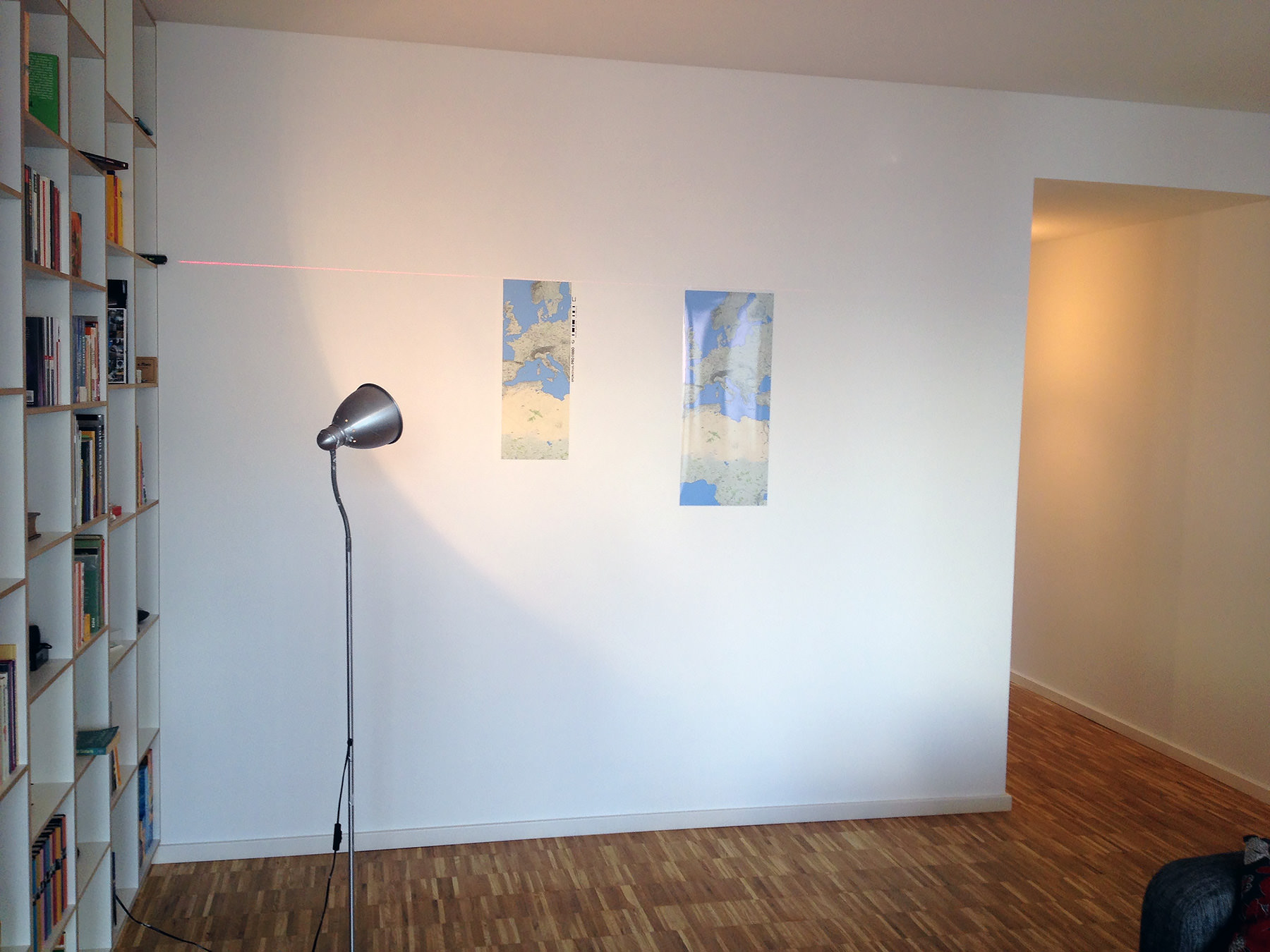 We did two test prints, one on Canon Photo Paper in glossy, one on matte print. I decided against the glossy one since it would reflect light in a very annoying way.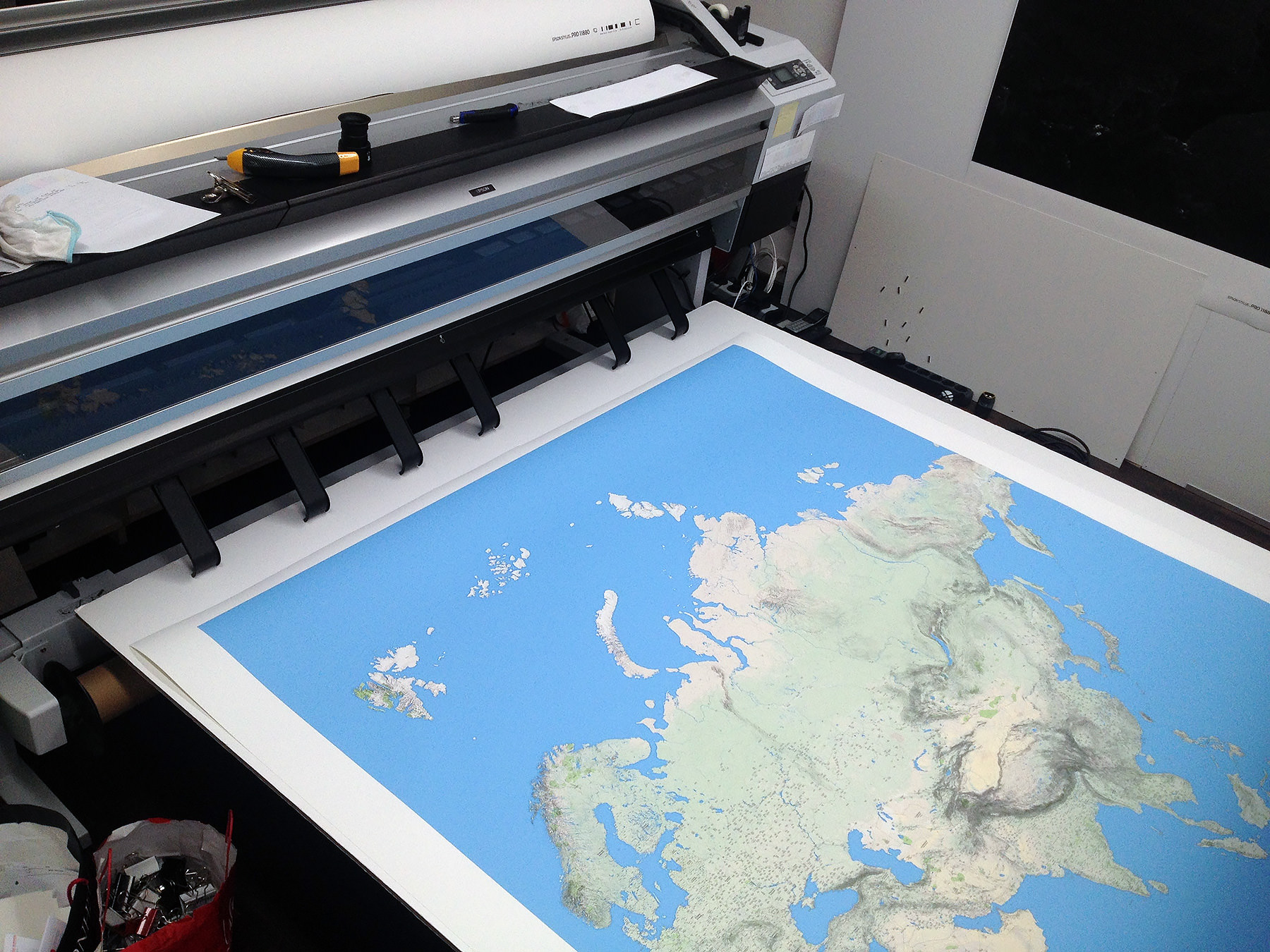 We printed the 1,25 Gigabyte data file in two sheets with an »Epson Stylus Pro 11890«, basically a very large 10.000 Euro ink jet7. And the result is just amazing: Even the 4 point fonts are perfectly readable and clear. The canyons and mountain ranges look so good you almost feel the depth and heights. And the colors are just perfect.
I decided not to apply any protective lacquer. This means that my printed map will be prone to damage from any liquid, but as soon as I would apply any chemical to make it more secure it would also become a bit more blurry. An unacceptable trade for me.
Costs: 329,- Euro for the two prints, including test prints and cutting the digital file.
The Framing Process
Among the things I've learned during this journey: There is a profession called »plasterer«. These noble men and women make their living by (I simplify) gluing paper on a carrier material.
The owners of the printing shop recommended a guy who is "grumpy but great in plastering" – and I guess it's an accurate description of him. Based on the size of the two prints we decided to attach them on »KAPA mount« (another well-known brand is called »foamex panels«).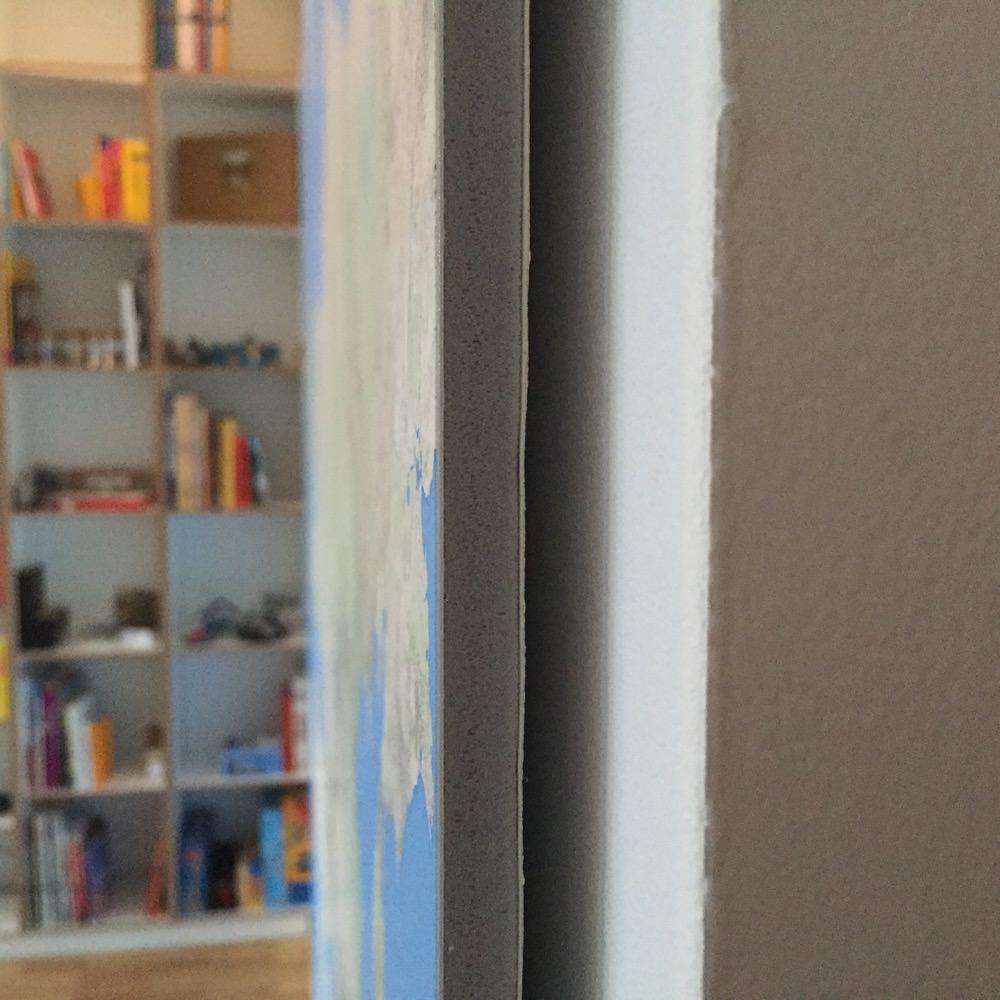 KAPA is basically a sandwich of two cardboards with foam in between. A light but stable material and great to put pins in it. The art of plastering: gluing two 3 square meter paper sheets so precisely on the KAPA boards that they fit together when hung next to each other. He did a great job, was grumpy as expected and the delivered boards smelled like cigarettes for two days.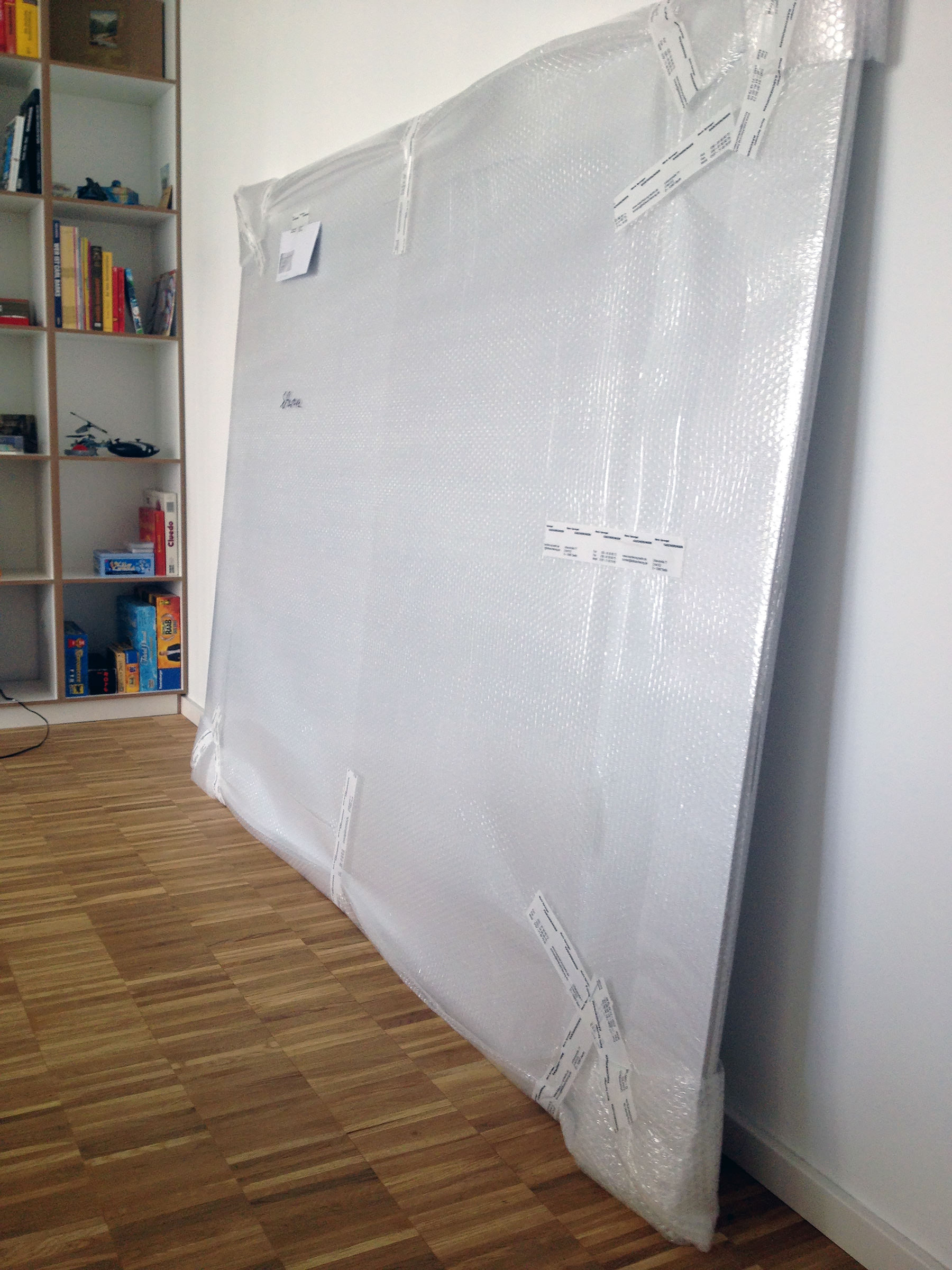 Costs: 399,99 Euro for the plastering and delivery by truck.
The Hanging Process
I didn't expect the question of how to hang the boards on my wall to be such a delicate one. What I didn't consider: 6 square meters is quite a large surface and 1mm difference on one side is… well, a lot more than just one millimeter on the other side. Especially if the wall is not perfectly even. And as I learned: mine isn't.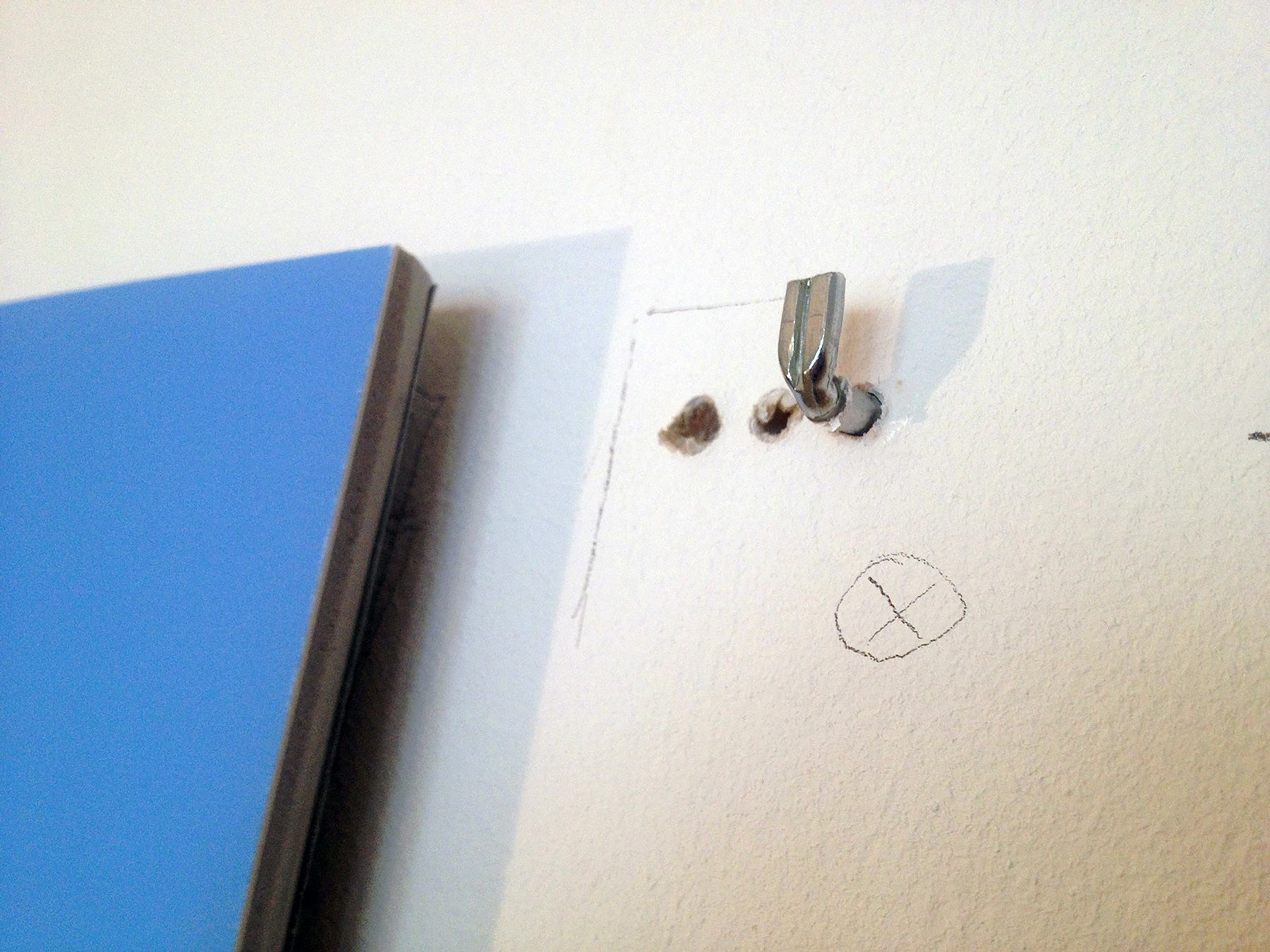 First try: I bought 12 pieces of so called »Haftblech»8, a self-adhesive metal tile, mainly used to hang up mirrors. Even with very accurate measurement it was not possible (for me) to install both boards next to each other so perfectly that there wasn't an unsightly gap in between. I gave up.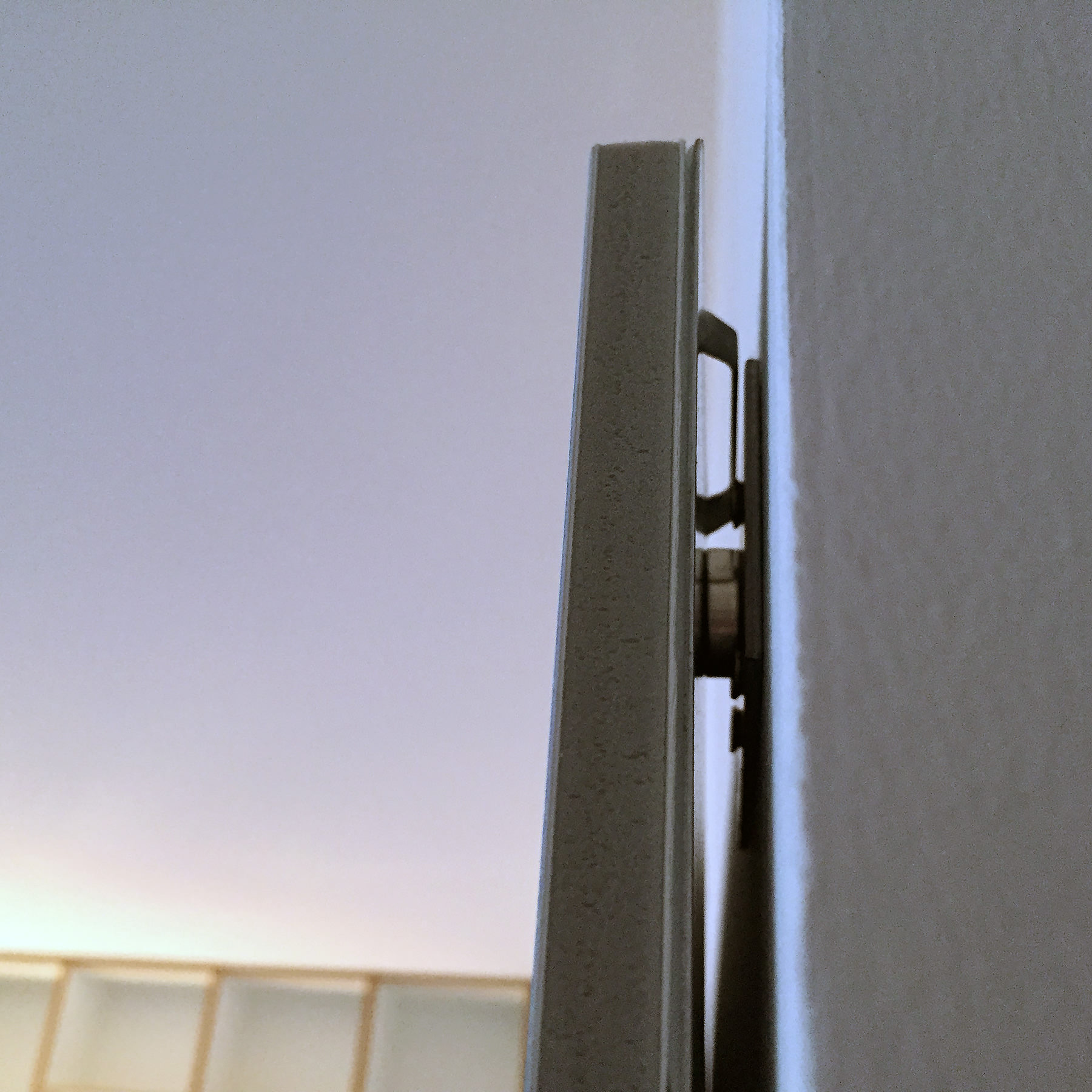 Second try: super magnets! It sounds great, you just mount super magnets on your wall and they will attach to the already glued on Haftblech on the prints. But, unlike with screws, there will still be enough room to just push the prints a little to the left and a little to the right until they fit together. The first attempt failed: 6 super magnets à 1,1 kg strength (Ø 5,0 x 5,0 mm N45 nickel) were not enough. The second attempt worked, 6 super magnets à 4,3 kg strength (Ø 18,0 x 5,0 mm N45 nickel) was just right.
Third try: while the super magnets in general worked as expected I wasn't happy with the fact that the surface of the KAPA boards was not perfectly even. I became afraid that over time the differences would become bigger and the only way to prevent this would be to attach both boards on one single frame. I called a company specialized in framing. They glued a framework of 4 metal racks on the back so now the two parts of the world map are together for good.
Unfortunately the company underestimated the size of the map and the therefore needed stability. Only two weeks after they installed the invisible frame the map fell from the wall – luckily without any damage. They needed to come two more times until the problem was fixed and the most annoying fact was their attitude and lack of embarrassment9. Anyway: the result looks great.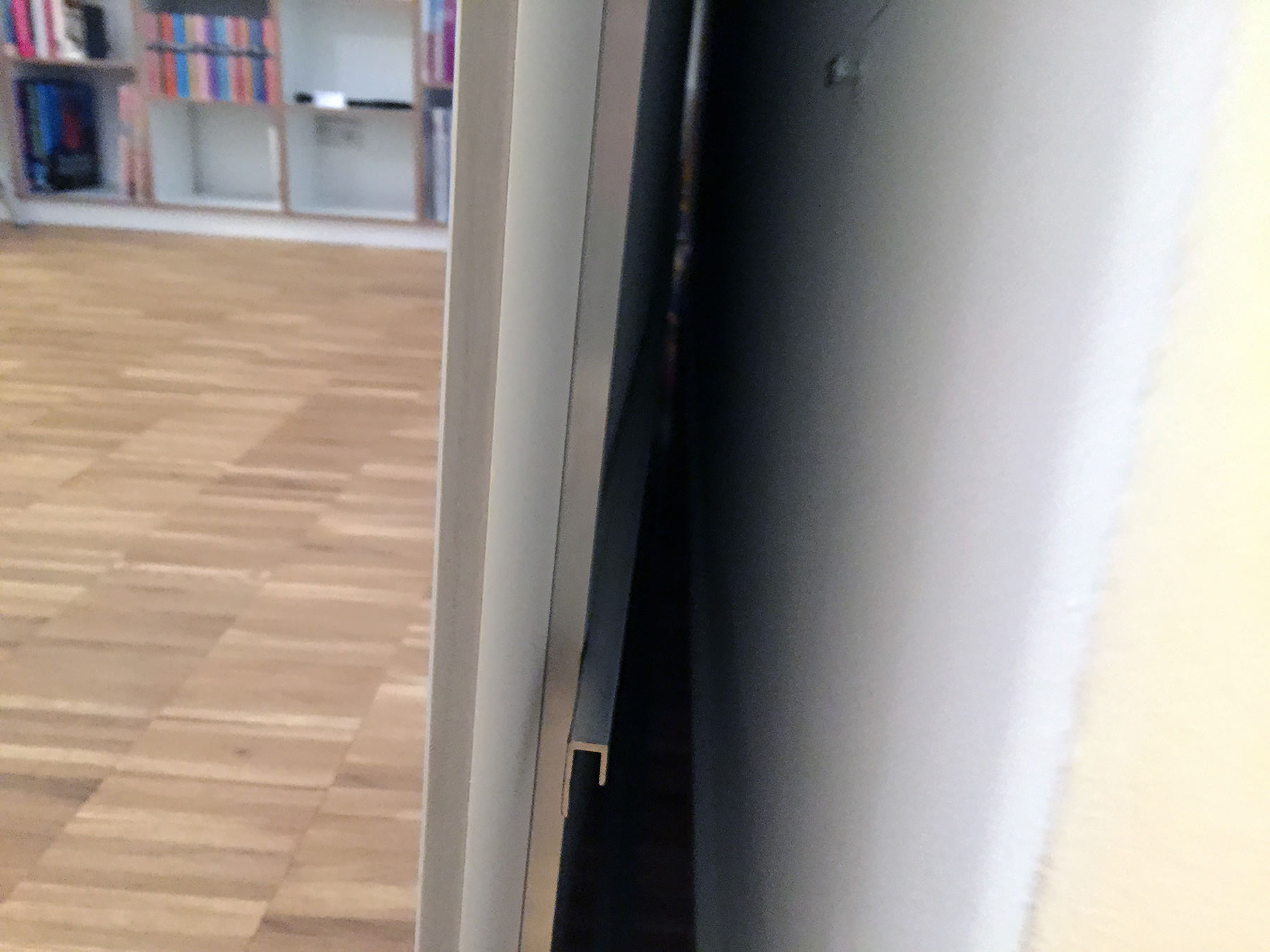 Costs: 410,- Euro for the framing (two people + material). Plus fixing it. Two times. Not included: lots of super magnets and Haftblech.
The Right Pins
Putting pins in a map is something I've loved doing for many years. They inspire me and remind me of great experiences. I like the look of standard pins with a glass head in bright colors.
However I realized that these pins are relatively thick (0,8 mm or 0.031 inch), at least if you want to pin small villages with an 4 point font size. I started to experiment with acupuncture needles but let's not talk about that, they don't even penetrate the KAPA board. Finally I found pins that are mainly produced to work with silk and only 0,4 mm thick (0.015 inch)10.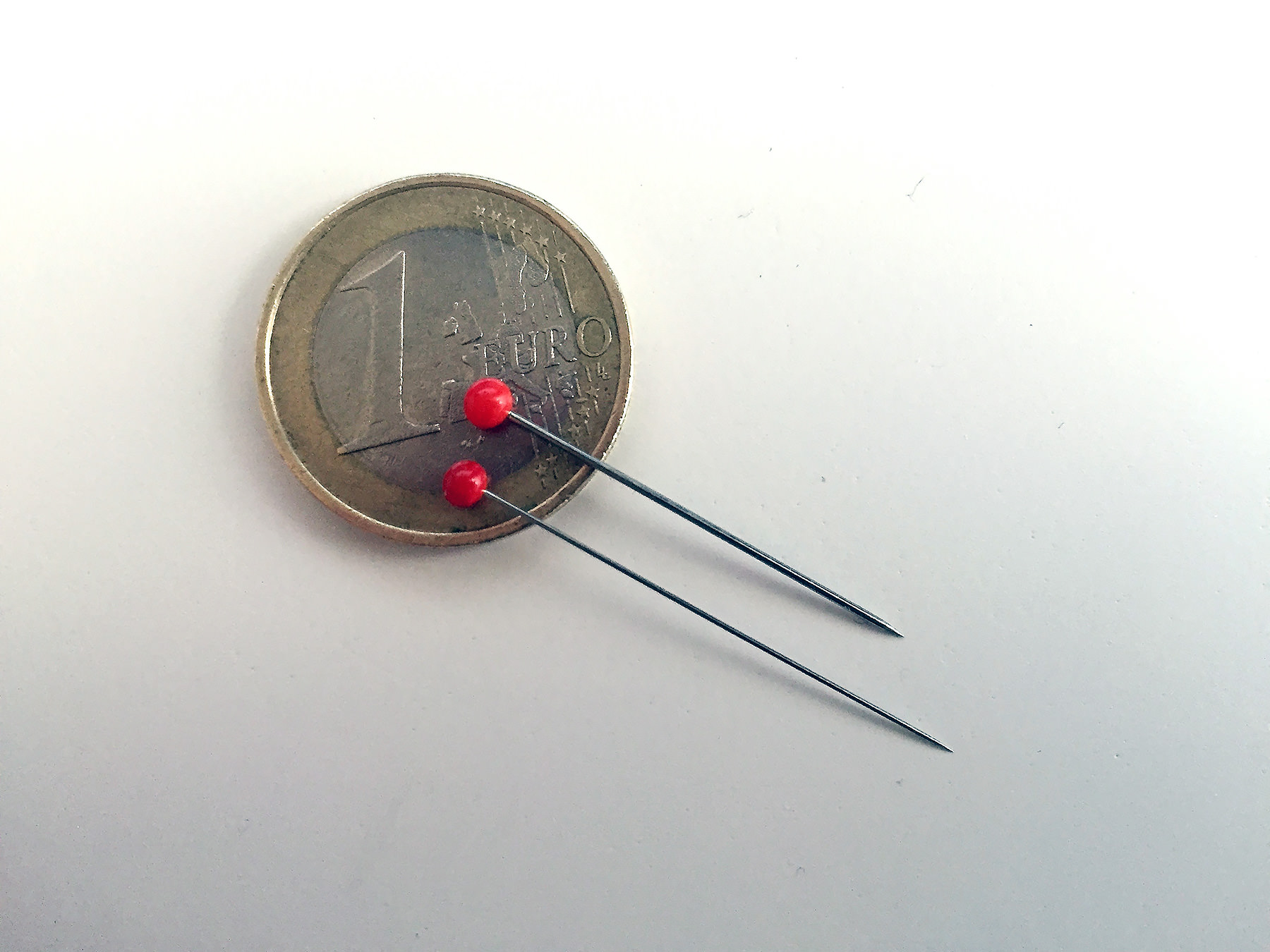 They only come in red so color coding would need some extra work, but that was fine. In fact, I had an even better idea – or at least I thought so. Wouldn't it be awesome if I painted the pins in luminescent color so they glow in the dark?
It would for sure, but it's not really possible. When you paint the pins in the yellow-white color they look quite ugly in daylight, the beautiful bright red is not visible anymore. And at night the glowing effect is so small that it's not worth it at all11.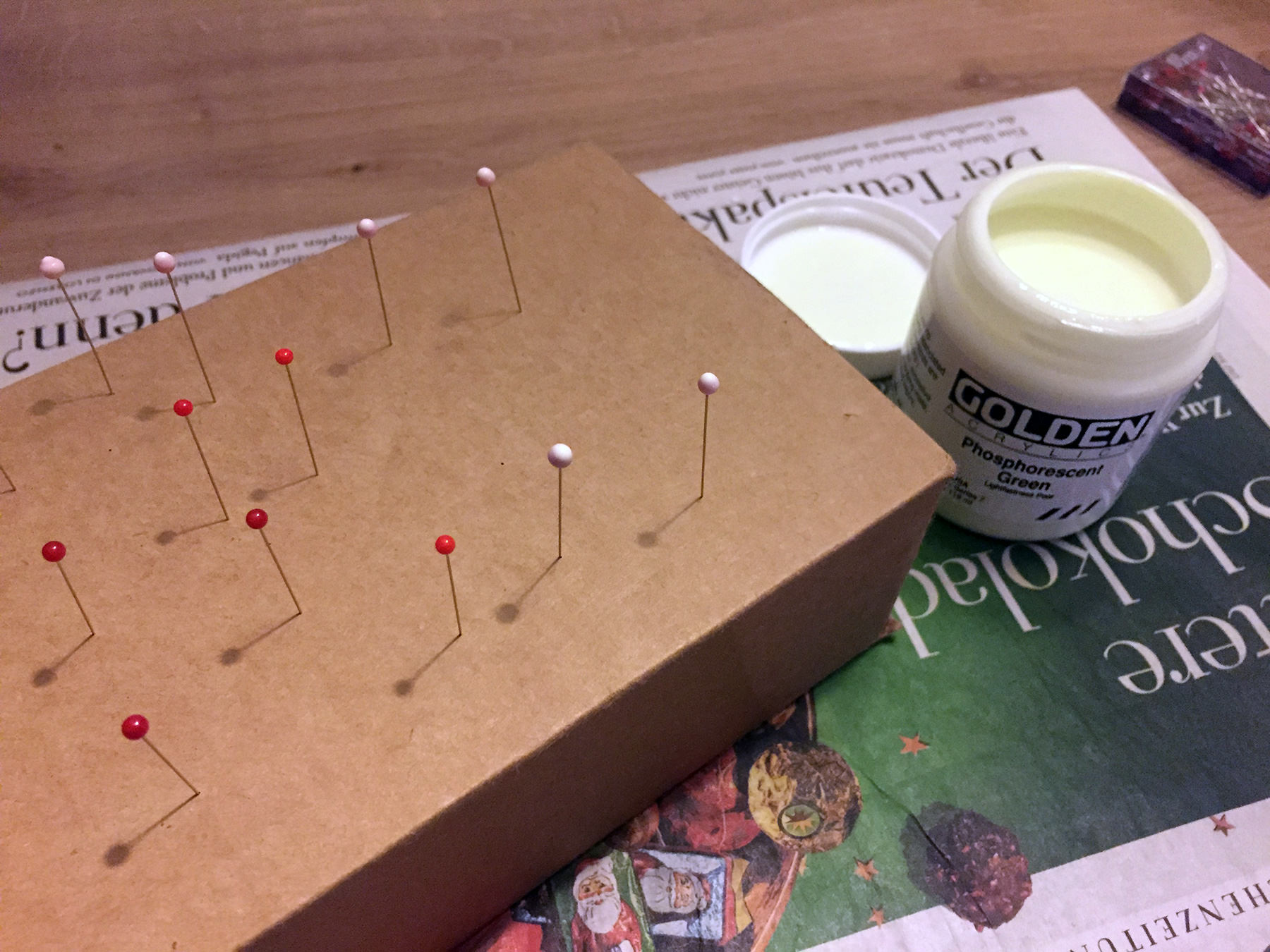 Future Projects And Ideas
Light is an issue, this part of the room is too dark to read the smallest of the city names. And you don't want to install light spots because spots will distribute the light unevenly – and in the worst case you'll stand in your own shadow. So ideally you'd have a 3 meter light rail in museum-quality. But expect thousands of Euros for that. So I don't have a good solution yet.
Another potential feature is a projector. Mounted on the other side of the room it would make it possible to show all kind of overlays. Plotting all flights I've ever taken? Mapping the position of tweets or Facebook status updates of my friends? Visualizing political and demographic data? The possibilities are endless – and the actual benefit are probably limited to telling my friends what kind of geek I am. So I'll try to stop here but imagine that in a different context this could be amazing.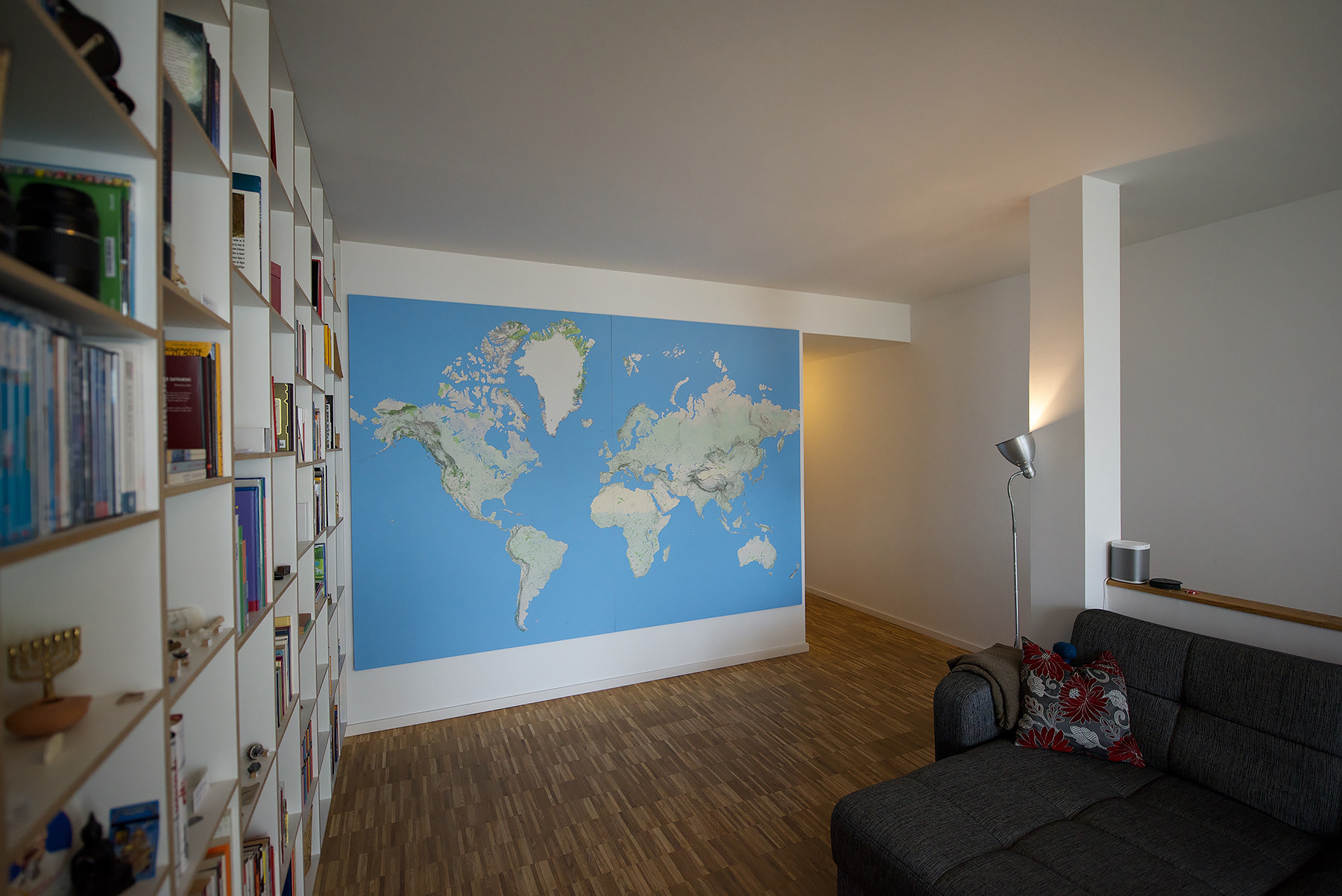 Epilogue
Thanks for your attention. I've spent 1,5 years working on this project, from the very first research for an online shop to finally hanging the self-printed map. It was considerably more work and costly than expected but I almost can't describe how much fun this process was.
This project wouldn't have been possible without the generous help of my friend Andreas, who immediately shared my excitement – thank you so much.
I hope you enjoyed reading this little article and, in case you enjoy building stuff like this, let's meet up for a beer.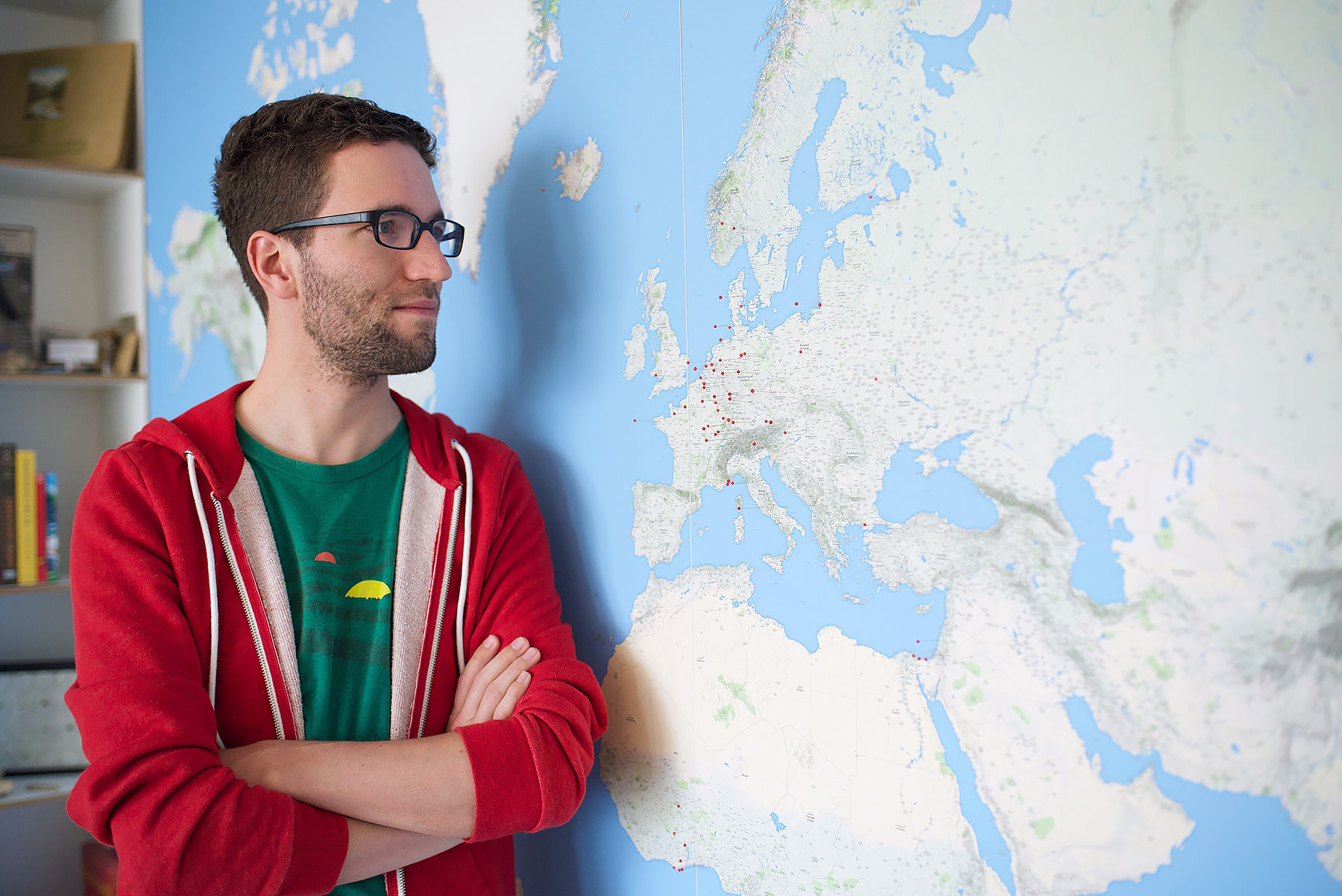 ---